Good morning! I want to reassure all of you that the Hermon Administrative Team will incorporate recommendations from the DOE, Governor, CDC, and the Penquis Regional Superintendents Association in the design and implementation of our plans for graduation, end of year, step up days, summer programs, and the beginning of the 2020-21 school year. Have a great day!

Greetings! I don't know about you, but the past week flew by! Welcome back to our remote learning environment. Hermon Schools will continue with business as usual with the hopes that Governor Mills will soon share with us her plans for reopening the state. As of right now, the last day of school will be Thursday, June 18th (Seniors last day would be Friday, June 12th) The ending date is 5 days later than the original schedule because of our snow days this year. We have no additional days to make up at this point. The plan is to remain in the remote learning environment until the end of the year unless the CDC and state officials recommend otherwise. I know that many of us would love to see students physically back in school in June for closure. We can only hope!

Good morning. Many of our families and staff are still without power and internet. Please do not worry about school work today. Some teachers may reach out to students if they are able to. Please continue to be flexible and patient. We are all doing the best we can in a very difficult situation. Keep calm and carry on!

Remote Learning Extension The Commissioner of Education, in consultation with the Governor, has recommended that school districts begin planning for remote learning through the end of the school year.  This follows the CDC guidelines for schools to close classroom-based instructions for 8 - 20 weeks to flatten the curve and to also keep people safe during the tail.  I have conferred with Hermon Town Manager Howard Kroll, the Hermon Administrative Team, and regional superintendents about the recommendations. To do our part to keep people safe, the Hermon School Department must take the recommendations from CDC, the Commissioner, and the Governor seriously.  Therefore, until further notice we will continue with remote learning.  We hope there is a drastic change and we can be assured it is safe to bring everyone back.  If that happens, I will notify everyone, but at this point, we need to plan for remote learning for the remainder of the school year. 

The Commissioner of Education Pender Makin, with the support of Governor Mills, has recommended that superintendents across the state begin to plan to replace classroom/group instruction with remote learning/distance learning for the remainder of the 2019-20 school year. I will be consulting with other regional superintendents, the Hermon Town Manager and School Committee, and others today and tomorrow to discuss her recommendation. More to come.

The March 31st Executive Order by Governor Mills requires schools to remain closed until at least May 1st. Therefore, we are changing the date for Hermon students to return to school to Monday, May 4th instead of April 27th. The remote learning plan will now include the week of April 27th. The week of April 20th remains a school vacation week. By working together, we will get through this challenge. Stay safe.

Good morning! We are staying with our plan of returning to school on April 27th for now. We will make adjustments later if recommended by the CDC or Governor. Have a great day!

Good morning! The DOE has received a waiver from the Federal Government to excuse all students from taking any mandated tests this spring including the MEA English and Math, MEA Science (all grades), and the SAT. Have a great day!

I will be calling everyone at 4 pm today to update you on tomorrow's schedule. The message is too long for a text message!

Good morning! I can clearly see a plan coming into place over the next 2-3 days! It will be a good one and will serve us well throughout the school closure. Have a great day!

Good evening! The teachers and staff in the HSD made tremendous strides today in their planning for continuation of learning opportunities for students. We appreciate their efforts!! Our schedule remains the same as teachers and staff will continue to plan on Wednesday. Thursday is the day students will be allowed back into the schools to pick up necessary items. I hope you all have a great evening!

Keep Calm and Carry On! The Hermon School Department is very fortunate to have an amazing, dedicated staff! They will be working hard today to put in place learning experiences for all students. Thank you for your patience as we build this ship as we sail! More later.

Leadership meetings are complete! On Tuesday and Wednesday, all staff will be in school to prepare for the continuity of instruction. On Thursday, the schools will be open from 6 am to 7 pm for students and/or their parents to access items students may need during the school closure.


Good morning! I will be joining area Superintendents at a meeting at UTC to zoom with Commissioner Pender at 11:00 and then discuss how to deal with specific challenges COVID-19 is presenting to educators around the state. I will also be coordinating our efforts with RSU 87 Superintendent Mark Turner and UTC Director Greg Miller. Tomorrow we will have a joint administrative planning meeting to discuss transportation, facilities, food service, and instruction.

We are very concerned about the health and safety of our students and our communities. After participating in a discussion on a conference call with the Maine Commissioner of Education, and conversations with regional superintendents, the Hermon School District and RSU 87 will be closing schools for two weeks from Monday, March 16, through Friday, March 27. We will reassess and update as information comes in throughout the break. More information will be provided in the upcoming days, we just wanted to get the message out as soon as possible.

Update on COVID-19 The Commissioner of Education will be zooming with Superintendents across the State at 3:30 to discuss the challenges that COVID-19 has presented. I will be joining that call to learn more about what other districts are doing and what the DOE and CDC recommend.

Saturday March 14 COVID-19 Update You may be aware that a district on the coast of Maine has closed it's schools for 2 weeks starting Monday. There are other schools across the state (particularly in southern Maine) who are also closing for short times. Some are taking Monday to plan, others are out for a week, and a couple are taking 2-3 days. Many are waiting for guidance from the DOE and CDC. In our region, we are going to try to stay coordinated. Area Superintendents are in constant communication with each other and plan to meet on Sunday to review and plan. We have followed the CDC and DOE recommendations to date, and they have not advised us to close. In Hermon, we are going to stay the course and continue to follow the recommendations of the CDC and DOE. We have made the necessary adjustments to date, and nothing has changed since 4 pm Friday afternoon. So as of right now, we are on for Monday as usual. If things change, I will send you another message and likely make an All Call on Sunday to update everyone.

Step up day at HHS!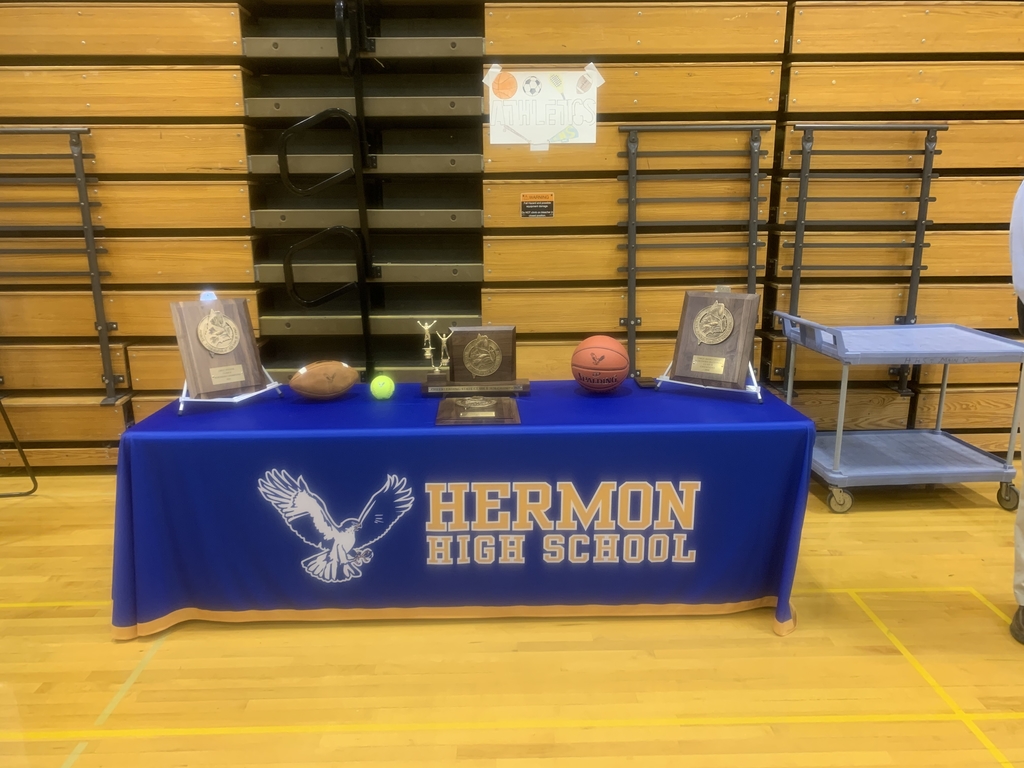 02.27.20 Good morning. This is Hermon Superintendent of Schools Gary Gonyar with an important message. Due to the National Weather Service forecast predicting hazardous weather conditions of snow, sleet, and mixed precipitation throughout the day, there will be No School today, Thursday February 27th, in the Hermon School Department. No School in Hermon.